Friday, 12 August 2016 00:00
What Legacy are You Building?
Written by Nancy LaPointe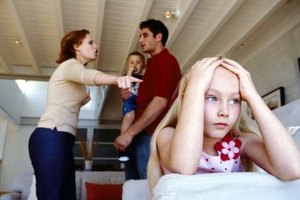 by Nancy LaPointe
Some friends and I went to dinner last Saturday evening at a nice restaurant. Seated at the next table were two young families with small children. One of the children, probably about a year and a half old or so, was crying. He looked very tired, rubbing his eyes often. The parents, specifically the dad, spoke to him very harshly several times. In front of three other children and the other parents, he used vile language and even directed his vulgar words to the baby who was crying. At our table, we all felt so sad for the child, and for the other children present who looked on fearfully.
Last week I was shopping in a store where I observed very much the same scenario. A young mother was scolding her child with obscenities and a harshness that was disheartening. Now, I am all for disciplining children and truth be told, we don't see too much positive discipline going on these days, but what breaks my heart is that these parents who spout continual filthy language have no concept of the effects on those kids….or don't care. I don't know which it is.
I suppose this is thought to be the acceptable mode of operation these days. I'm just out of touch. My friend shared that her daughter and fiance who are raising a three year old together often have the little one sitting in front of the TV watching pornography. They don't see that anything is going on with the child. They think he's too small to be affected.
Why then, do these parents get so upset and distraught when their adolescents and teens get in trouble with sex, with drugs, with other serious issues? Do they not ever consider the source? Today's toddlers are tomorrow's parents. Besides the fact that little ones need loving nurturing, security through positive discipline, and protection, they learn by observing.
I can only assume, which might be wrong, (don't blast me for judging---some things are naturally judged!) that these parents are so wrapped up in themselves that they can't be bothered by thoughts of their children's development. I totally get that the parents are wounded souls who have learned to focus on "me" and "what I need" because that's our culture today. But what a heartbreaking legacy to see families following generational dysfunction because a parent couldn't take the time or effort for love or positive disciplinary methods.
We have infinite resources at our fingertips for parenting, for inner healing, for child development, for marriage and family issues. No one has to be in the dark or say they can't afford help. There's free help everywhere if you want it. No, I am not just sitting here in judgment of these families. I am heartbroken because I've been a counselor a long time and I know the far reaching effects of these types of scenarios. I want parents to stop and think about what they are producing. If you need prayer or counseling or help, I am always available. In the meantime, I pray often for the children.
Latest from Nancy LaPointe
Welcome to my website!
"Living in God's Rest...At Peace in a Chaotic World" "Masked in Deceit," and Faith's Illusions are all available now. Living in God's Rest can be purchased from any of your favorite booksellers online or in stores. Masked in Deceit and Faith's Illusions, Christian novels, are available from Amazon. All books are offered in ebook versions as well. I always appreciate reviews on the seller's sites. Just click the books below and you will find links to purchase.
My newest book:
Have a blessed day!
- Nancy
News from Nancy
Please enter your email in the box below to signup to receive news from Nancy about upcoming events, news, and books.